So, I get this sweet little PM from my friend and fellow Penny Springmann CT Christine(
my4boys
) and I get all excited to see what my fellow Steeler lover has to say.... and she TAGS me!!! But this is a fun little game I've been tagged in! I saw this posted on a blog a few days ago but totally forgot about it. Here's the tag:
Go to your photos folder in your computer.
Go to the 6th folder of photos.
Go to the sixth picture in that folder.
Put the picture on your blog and description of it.
Invite six friends to join the challenge.
Link them in your blog and let them know they have been challenged
Here's my photo from this fun little game: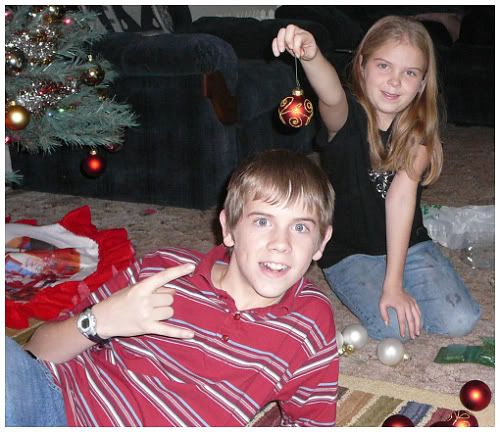 This photo was snapped obviously as my two youngest were decorating the Christmas tree in 2007. I love the little hand signals my Andrew does when he has his picture taken. LOL
So, let's see who I can tag and see what photo is their 6th photo in their 6th folder....I'm tagging:
Kate Hadfield
Kris
Mothermark
Juli
Tracy
Eve
I did this layout last evening for a blog challenge at The Lilypad. The challenge was about white space and a photo of an inanimate object. This was my entry (which didn't win *pout*) but I LOVE LOVE LOVE how it turned out! Mandy (fellow Penny Springmann CT) commented that she loved how it was tree shaped. I didn't even realize it until she pointed it out! and funny how the star ended up on top of the tree shape!!!
Credits are
HERE
And that's it for me this chilly PA Monday. Catch you later!