I can't believe it's been a week since my last post! Which also means it's been a week since I scrapped or created anything. Where did the time go? I've been working hard at the gym, going almost every evening this past week. I've lost 3 pounds this week. Yay me! But I didn't go last night because I had a project for today for baby shower to work on. I promised my niece that I would make two of my candy bouquets for my nephew's wife's baby shower. I thought I posted my directions for creating the bouquets but I didn't. I'll work on getting these up for anyone that is interested (all 4 of my readers LOL)
I've been eyeing up
Kate Hadfield's designs
for a while (I actually purchased my first Kate Hadfield kit just before Christmas) and knew exactly which of her designs I wanted to use for my bouquets. Here's the candy bouquet I created: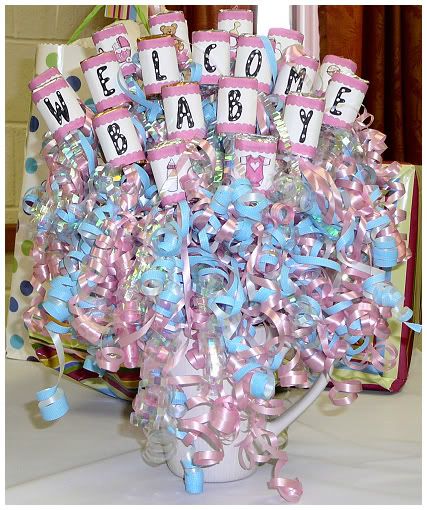 Here are Kate's designs that I used:
I really wanted to use the polka dotty alphabet but wasn't sure if it would "work" with the pink, white and blue curly ribbon, but I have to say I'm extremely happy how these turned out.
You can be sure I'll be on the look out for black polka dotted curly ribbon to use on my next bouquet - I think it would give it a touch of class!
I have another project in mind using the Baby Girl Doodles, but it's still on the drawing board in my mind.
And last for today, for the Sweet Shoppe's blog challenge posted on 1-22-09, we are to about our favorite cupcakes. I haven't eaten cupcakes in probably 2 years but the last cupcake Taylor and I made were yellow cupcakes with chocolate frosting with sprinkles on top! and boy were they yummy!!! These days, I'm content with seeing all the cupcake digital elements popping up all over the web!
Well, that's it for me for today. Thanks for stopping by!