So, since the Sweet Shoppe started with the 52 card pick up challenge, I have been more and more interested in creating cards. I decided to start a box for all my cards and give them to my sister for Christmas. I only have about 10 cards in there so far but what an assortment! I need to work on catching up on the SSD weekly challenges. I also found a really fun "It's in the Cards" challenge at Scrapmatters.com. They provide a template and you go about creating your card. I've only done 2 so far but have a few more in the works!
Here are 2 cards that I created for the It's in the Cards challenge at Scrapmatters: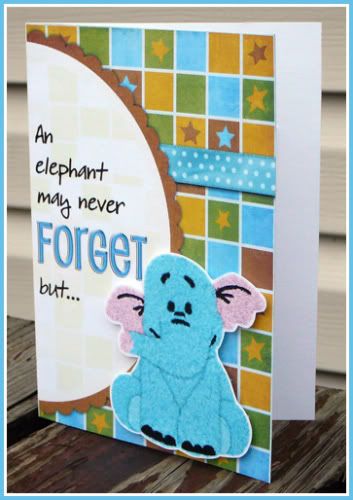 Credits: Webby Buddies by Eva Kipler, Penny Springmann and Libby Weifenbach
Font is HeatherG by Darcy Baldwin
template by Jaime (ocmath)
Credits: Orange paper by Eva Kipler
Halloween elements from Heather Roselli's Boo Crew Add-on
Green ribbon from Misty Cato's Adorable Me kit
Grass is from Misty Cato and Penny Springmann's Chillin and Grillin kit
template by Dawn (winkasheart)
And last by not least, I subscribe to a really cool stamper blog:
http://www.mothermark.blogspot.com/
Each Tuesday, she is having a Teapot Challenge - she will post a photo of a teapot and we are to make a card inspired by the teapot she posts! She has the cutest teapot this week! It's a Mary E teapot! I love the black and white checkered pattern on here - this is probably what I am going to use as my inspiration! Sounds like an interesting challenge! Stop back soon to see my card inspired by this challenge.
Since it looks like she started this back in July, I may have to play catch up and check out the previously posted teapots and see what I can come up with! After all, I only have 42 days 'til Christmas!! Yikes! it will be here before I know it.....