For those of us in the US, 4th of July is fast approaching. Penny Springmann and I huddled secretively the other night to come up with something FUN and unique for her Workin' it Wednesday post at SSD and on her blog. My contribution started off as Penny asking me if I had ever done a pinwheel and if I could do one. "Sure, no problem" was what I told her. That alone should have told me that it would not be a picnic doing one! I'm the type of person who really jinxes herself by saying stuff like that. And trust me when I say that pinwheels are as easy as one would assume.
I knew immediately that I wanted to use the blue paper with the stars and the red dotted paper.
The first pinwheel I made using regular paper and was too big. It wilted like a flower in the middles of a hot summer day. NOT a pretty picture! And of course, I didn't have any matte photo paper and I KNEW cardstock would be too heavy.
So, I reduced the size of the pinwheel. Reprinted. Then I thought, "oh crud...how am I going to attach the pinwheel to the stick?" So, I googled pinwheels. I now know all there is to know about making my own pinwheels LOL. In the end, the lazy part of me won and I grabbed a pinwheel from the local dollar store, popped off their pinwheel and put mine on their red stick!!!
Here's my finished pinwheel: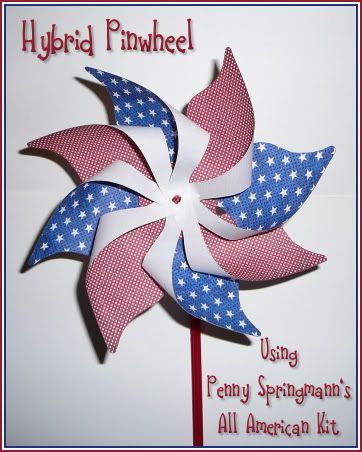 I was so stoked at how it turned out.
And then I got this REALLY cool idea - that I was going to make Hybrid Rockets. I used full sized rolls of Lifesavers, wooden skewers and some mylar pieces coming out the other end for the "rocket" tails. I threw them together in like 30 minutes, start to finish. For the rocket labels, I just measure around the lifesaver and then how wide the original label was.
But my rockets were missing something. Penny asked if I could add some sort of cone top to them and Ta-da! They turned out adorably, if I say so myself!!! What do you think???
So, if you really like them and want to make some, pop over the
Penny's blog
. She's got a great little goodie for you that includes the pinwheel printables and the rocket printables. She done an awesome gallon paint can label for you too! This goodie assembled will make a GREAT centerpiece for picnics!
Well??? what are you still doing reading??? Go get it before it's gone!!! and be sure to drop me an email and show off your Pinwheels and rockets!!!
See you soon!!!