So, a few days ago, I quietly celebrated my birthday. and it was what some consider a milestone birthday. The big one. The big 4-0! Knowing I was turning 40 really wasn't bothering me. It's just a number. But then something happened that jolted me into the realization that I am getting older and that so is my Dad. And it was that chain of events that has led to one of the worst few weeks in my life.
To sum it up, my Dad was admitted to the hospital a few days before my birthday for chest pain. Multiple tests over the course of a few days and labs showed that he had one heart valve that needed replaced and one that needed repaired. Surgery was scheduled for Feb. 4th - the day after my birthday. He was in a hospital that was about 45 minutes away. But that didn't matter - all that mattered was that my Dad was sick and I had to be there with him.
Surgery was done as scheduled and he did well. Luckily he had no blockages which could have complicated the surgery. There are 2 snapshots in time that will never ever be erased from my head. The first is being with my Mom and watching her slip away almost 15 years ago and the second is seeing how frail my Dad looked after surgery hooked up to all those machines. Now you have to understand that I am a nurse and have been there with patients as they slipped away and I've seen patients on breathing machines before but NOTHING, and I mean NOTHING, is worse than seeing someone you love in those situations.
Dad has had a few rough spots over the past week since his surgery and required a pacemaker insertion due to his heart not adjusting to being cut into for the valve repair but he's finally out of the Surgical Intensive Care unit and in a regular room.
To those of you who offered positive thoughts and prayers for him, I thank you with all my heart!! It truly has helped - both him and me!!!
Kate - if you're reading this, you just can't know how your simple gift touched my heart at a time when I needed it most! thanks so much Sweetie!!!
And I leave you with a layout about that milestone birthday titled "No candles for me"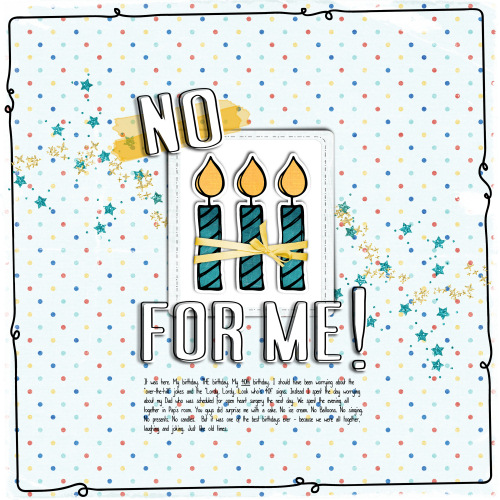 You can read the journaling
HERE
- I'd love to hear what you have to say about it!
thanks for stopping by!!