Good Sunday afternoon! Just figured I'd jump on and blog a little about the Miscellany Monday Recipe Card Swap that I am hosting tomorrow on Penny Springmann's blog for Miscellany Monday. It will run every Monday through May and have a different theme.
Here are the themes for the month:
May 5th - Desserts
May 12th - Main Course
May 19th - Picnic/Covered Dish/Salad recipes
May 26th - Appetizers
Here are the guidelines:




Recipe cards must be sized 4 x 6 inches


You can use any designer of choice to create recipe card, just follow the weekly theme.


Post your recipe card to your favorite gallery, link us up on Penny's blog, and email the full sized, jpg recipe card to me at wildblueeyez@comcast.net


Recipe cards will be emailed out at the end of the week to each participant for that particular week.

Here's mine for tomorrow: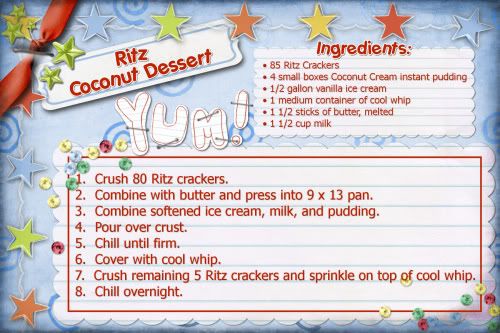 Credits: Doodle Pop by Penny Springmann and Micheline Martin, sequins by Chris Wasielewski, fonts used - Porky's and Verdana

And a dessert recipe card by fellow Miscellany Maniac - Traci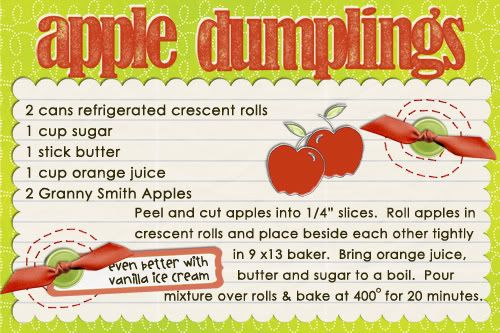 Traci's credits: Doodle Pop, Shape Up! by Dani Mogstad, Stampy Alpha by Christy Lyle and Apple from Back 2 the Books by Rachel Martin and Beth Kern
Just think - at the end of May you will have so many new recipes to try!!! Do you know anyone getting married this summer? Wouldn't they be cute all printed and given as a bridal shower gift?
So, come join in on the fun at Penny's blog! Hope to see you there!!!